I guess one of the struggles for Filipinos who are working abroad is that we  miss the Filipino "Pinoy" style sauce when making spaghetti.  My folks came here for a visit two weeks ago and what do you know?  They brought me Del Monte spaghetti sauces, much to our delight!
"A spaghetti that tastes like the ones in the Philippines," my 5-year old boy beamed.
The cheese (which is very expensive here in Thailand, by the way)  is  also from Pinas!  So, who cares if there's no Jollibee here?  ;)  But really, I would be so happy if there's going to be one!! Haha!
My share for:

and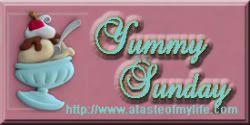 19 Responses to "Pasta with Pinoy style sauce!"